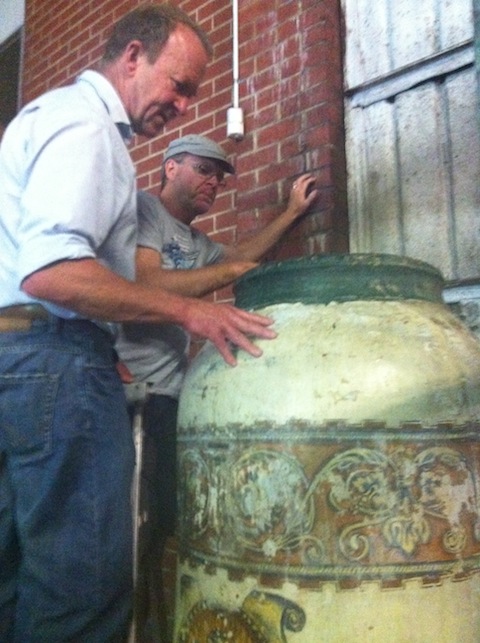 What: Amphora Wine Dinner at Virginia Plain
When: Tuesday 13 November 2012 7pm
Where: Virginia Plain, 31 Flinders Lane (next to Cumulus Inc)
How much: $110.00 (plus 30c booking fee)
How to book: Booking only through Trybooking here.
The other day I received two bottles of some of the most exciting wines I've bought. They were made by former Fosters head winemaker Glenn James not in bulk in stainless steel (like most Aussie wine) but in an amphora – that's a large pot which he'd crawled inside and lined with beeswax.
It's part of a movement where winemakers are turning their backs on the last half century's tradition of using stainless steel for everything and the previous 500 hundred years of French and other European techniques usually involving oak barrels.
Instead James used the amphora pictured above by simply dumping in a blend of grapes. Typically, there is no intervention in terms of adding yeast, sugar, acid or oak to the wine. Although a little sulphur is sometimes used to aid preservation.
The grapes are left in the amphora for up to a month or two and nature is left to do its job.
We've pulled together a dinner with Ducks in a Row and Virginia Plain and Fringe Food to showcase and compared some locally made amphora wines with some internationally recognised cult wines including Gravner and Pheasant Tears.
For me Amphora (and natural) wines are textural and packed with umami – a bit like sherry – making them perfect match for food. I find that they stop me in my tracks and make me want to savour rather than sink several bottles.
Glenn James, former head winemaker at Fosters, from Ducks in a Row and other winemakers will be there on the night to talk about his story and amphora wines.
This is what wine writer Huon Hooksaid in the Sydney Morning Herald about James' amphora wine:
"Now, readers of this column know I am a little sceptical about 'natural' wines, but here is one made by a seriously competent and experienced winemaker, and it is a quality wine – but also one made with the least manipulation imaginable. And it tastes terrific.
The colour is lightly cloudy mid-yellow, without any brown tints. Its bouquet is delightfully floral and spicy, with the muscaty fragrance of the moscato giallo dominant, although it is a small percentage of the blend. In the mouth, it's full-bodied and flavoursome, and texture is a highlight, with a fleshiness and density that makes it satisfying but at the same time smooth and harmonious, without sharp edges. The acidity, while not deficient, is barely noticeable and it's properly dry – no residual sugar. The most surprising feature is that skin tannins, while present, are in no way assertive. The texture is velvety, slightly viscous and very agreeable."
On arrival
NV, Costadila Prosecco 450slm
Veneto, Italy
1st Course
2009 Pheasant Tears
Raksiteli, Kakheti, Georgia
2nd Course – 2011 Ducks in a Row Pandora's Amphora
Vermentino, Fiano Moscato, Giallo (45,45,10)
Between courses
2011 Quealy Friulano 'Amphora'
Mornington Peninsula, Victoria
3rd Course
2005 Gravner Ribolla Gialla
4th Course
2010 Cos 'Pithos' Rosso, Sicily, Italy
(Nero d'Avola-Frappato)
Remember you can only book throughTrybooking here. Book early to not miss out on what will be a very special night.
If you tell us in advance we will also be able to cater for vegetarians and we'll post a proposed menu soon.
Virginia Plain will be offering canapes followed by a four course degustation and petit fours. This is the provisional menu with either or choices:
Canapés
Compressed Cucumber with Gin and a Kingfish Tartare
Wagyu Bresaola with Truffle Cream Cheese
Entree
1. Tomato Tart with Goats Cheese, Beets & Lambs Lettuce
2. Cep and Morel Risotto
Mains
3. Roasted King Fish Fillet with Three Cheese Crust, Baby Calamari with Vongole Sauce
4. Roast Pork with Braised Cheek, Crispy Ear Crackling, Fennel and Licorice with Red Currents
Dessert
Petit Fours
Here are a couple of videos which tell a bit more about the whole amphora wine thing: